Are you looking for a really ( easy) festive dish idea? Try this pasta recipe for a luxury Crab and Leeks Linguine.
I absolutely adore Irish crab meat. First of all, it is something new for me. It's not that we don't have crabs in Italy but it is not so common to find them and their derivative products in all supermarkets.
Moreover, it is a versatile and savoury ingredient. It's not really cheap but a small quantity is enough to give to your meal a special touch.
Combining crab meat with linguine and a seasonal ingredient such as leeks gives you a very elegant result; perfect as a first dish if you are hosting a dinner on the last day of the year, for example.
It is simple to do and, at the same time, is sure to be a great success with parents and relatives. With its sweet taste, it is especially appreciated by children.
TIP: If you feel particularly inspired, you can add some sea trout caviar on top. The salty taste and colour contrast will give your dish an unbeatable mouth-watering aspect.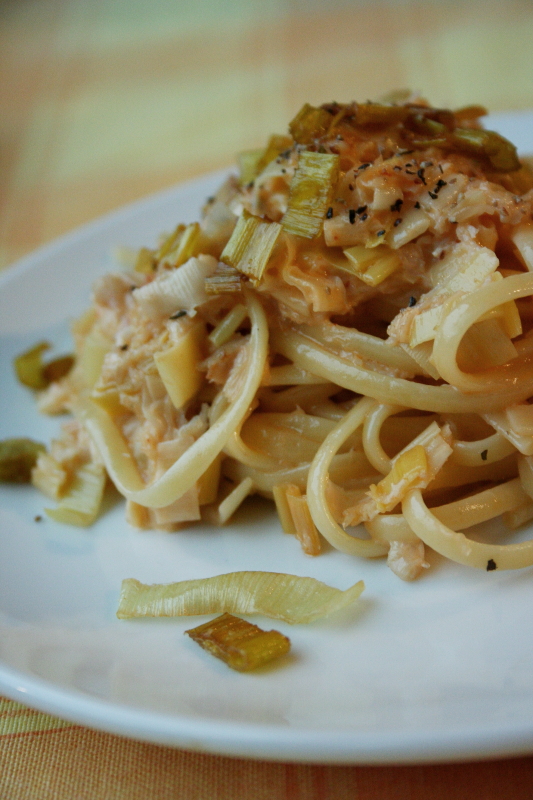 Ingredients

€15.00 (4 Servings)
Linguine

400 gs

Crab meat

200 gs

Leeks

4 units

Milk Cream

125 mls

Extravirgin Olive Oil

2 tsps

White Wine

125 mls

Groundnut oil

500 mls

Tomato pureé

(one drop)

1 unit

Tarragon

(one pinch)

1 unit

Black Pepper

(one pinch)

1 unit

Salt

(to taste)

units
Cook the linguine in plenty of boiling salted water. I will not annoy you with details about how to cook pasta "al dente". The Internet is already full of tutorials about that but please follow them so you don't end up with a clumpy ball of starch! (OK, I admit it, this is an obsessive point for Italian people…)
Cut off the tips of the leeks and remove the external leaves. Cut the leeks in two parts, separating the white half from the greener half.
Slice the greener part of the leeks in round pieces (half-centimetre) and unravel the little "wheels". Fry them in a small saucepan in a deep layer of groundnut oil. Drain and put aside on kitchen paper.
Slice the white part of the leeks in the same way and put them into a pan with the olive oil. Add some salt and tarragon and stir. Cook them very gently (if cooked at high heat, the leeks turn bitter) until they are soft.
Add the crab meat to the leeks, stir and cook for one minute. Turn the heat to high, add the white wine and the drop of tomato purée and stir. When you don't smell the alcohol anymore, you can add the cream. Continue to cook at medium heat, stirring from time to time, until the cream thickens. (Not too much; sauce should be nice and smooth!)
Keep aside a cup of the boiling water that you used to cook the pasta.
Drain the linguine and toss into the pan with the sauce; mix quickly on a high heat (add some of the starchy water, if needed).
Dish out, garnishing with the fried green leeks and black pepper.
Tags:
crab
,
irish food
,
irish italian food
,
leeks
,
linguine