Baking is a well known antistress. But kneading before baking is even better. Trust me, and give a try to these home made spinach and ricotta cannelloni.
How are you coping with these strange quarantine days? Italians are mostly spending their days cooking and baking. If in certain countries the panic buying was focused in toilet paper, Italians immediately rushed to buy yeast and flour to bake bread and pizza like crazy.
Industrial bread never got too popular in the Belpaese. So, when the lockdown went in place, everybody started to self produce, in order to respect the rules and not get out everyday to buy fresh bread. And, of course, in order to escape from the boredom and alienation of the confinement.
I have to admit the sense of alienation and disorientation is higher if you are living this complicated days out of your country of origin, far from family and friends and without any certainty about when things will go back to normal.
It is not exactly easy, or advisable, to go back home for the holidays at the moment. So Easter family lunch is not served at a big family table like we used to, but becomes some sort of collective remote conference call with all the members of the family scattered around Italy and Europe (thanks austerity and Italian diaspora!). At least we have Jitsi!
Video calls are also an occasion for sharing recipes and showing off the results of so much cooking effort in the solitary confinement.
Could I refrain from the family cooking contest? Of course not! So here's are my Quarantine Easter Spinach and Ricotta Cannelloni.
Cannelloni are a typical dish from northern/central Italy more than Sicily. But we are not strictly traditional in the house. So, here's to you!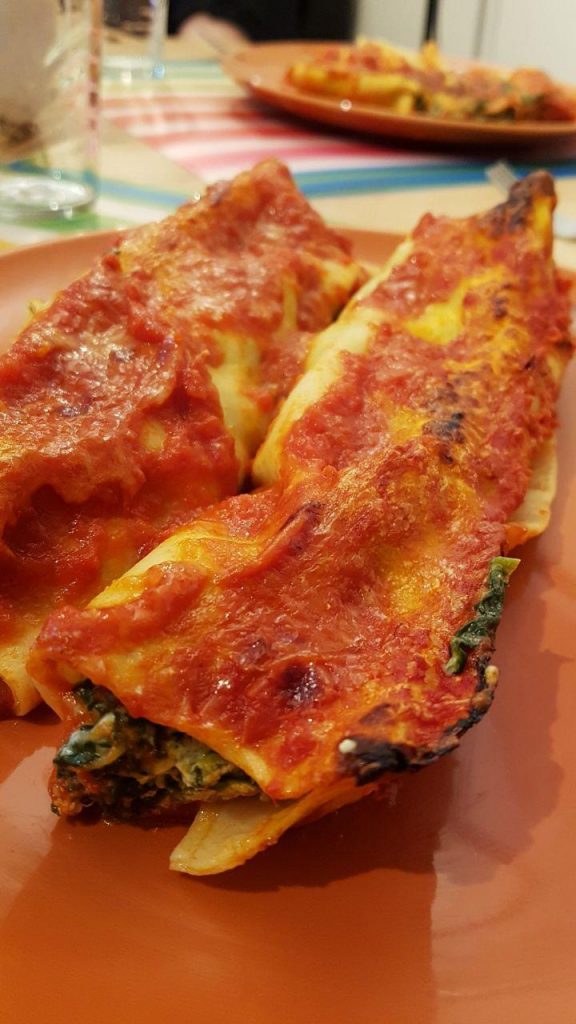 Ingredients

€12.00 (8 Servings)
Flour

00 or plain

400 gs

Eggs

4 units

Ricotta

600 gs

Spinach

(boiled and chopped)

900 gs

Parmigiano Reggiano

300 gs

Butter

20 gs

Tomato Passata or Peeled Tomatoes

(2 bottles)

1400 mls

Extravirgin olive oil

3 tbsps

Onions

2 units
(These are the ingredients for 2 trays – 16 cannelloni)
METHOD
Boil and chop the spinach. Squeeze them in order to remove all the excess water and keep aside.
Gently fry a diced onion with 3 spoons of extra-virgin olive oil. When the onion is soft, add the tomato passata. (You can also use peeled tomatoes, if you like, but in that case I suggest to use a vegetable mill to make the sauce smoother). Let it simmer for about 20 minutes or until lightly thickened.
In the meantime you can make the dough for the cannelloni. Mix the eggs and the flour and start to knead. (more details about the whole process on my instagram stories).
When the dough is ready, let it rest for 1 hour in a closed container.
While the dough is resting, prepare your filling by mixing 200g of the grated Parmigiano, the spinach and the ricotta.
With a rolling pin, roll out your dough in order to obtain 4 thin fresh pasta sheets. You can also use a pasta machine if you like. I am not a big fan of it, I prefer the old school wood board and elbow grease.
Cut off 4 rectangles from every sheet, and spread them on a cotton towel dusted with flour.
Boil the pasta sheets in salty water for 1 minute and put them in a bowl with cold water (in order to not get them stick to each other).
Spread again the pasta sheets on a towel.
Cover the bottom of your trays with half of the tomato sauce.
Take one pasta rectangle and put some filling along the long side. Roll it over and put in the tray with the folding part on the bottom side. You just did your first cannellone!
Go ahead and do the same for the remaining pasta rectangles.
Cover with the tomato sauce and sprinkle with the Parmigiano Reggiano.
Bake at 180 °C for 20/25 minutes. Last 2/3 minutes under the grill for a nice crusty texture.
Allow to cool down for about 10 minutes before serving. I will set a bit and will be easier to cut.
Enjoy and Buon Appetito!
Tags:
cannelloni
,
coronavirus
,
covid19
,
easter
,
fresh pasta
,
pasta