In search of a different way to cook a chickpea dish? This is a simple recipe idea for a pasta with chickpeas and carrots. A versatile vegetarian ragù to be served with your favourite shape of pasta for a healthy and well balanced dinner.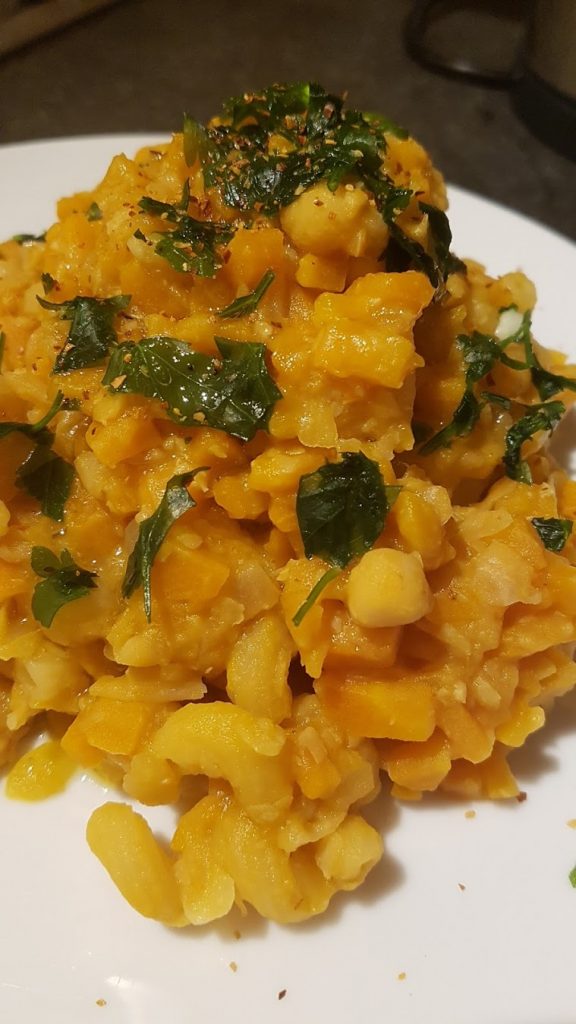 It is also very affordable, and in these times it does not hurt,.
Ingredients

€2.00 (1 Servings)
Cooked chickpeas

(drained)

200 gs

Carrots

diced

5 units

Onion

diced

1 unit

Extra virgin olive oil

2

tbsps

Vegetanble or chickpea stock

500 mls

Dry white whine

200 mls

Pasta

(short shape)

50 gs

Dried chili pepper

(pinch)

1 unit

Flat parsley

(to taste)

1 unit

Bay leaves

2 units

Salt

(to taste)

units
Gently fry 1 diced onion in extra virgin olive oil.
When the onion is soft, add five diced carrots. Stir and add two bay leaves. Deglaze with one glass of dry white wine and let simmer at low heat.
When all the liquid is evaporated, add the of mashed chickpeas.
Let cook for a couple of minutes, and then add enough stock to cover. You can use vegetable stock or you can use chickpea stock (if you use chickpeas that you cooked from scratch).
Add 1 tablespoon of tomato puree and let simmer until all the liquid is absorbed.
Add the pasta (I used fusilli bucati shape) and add enough boiling vegetable stock or chickpeas stock to cover.
Let cook and stir from time to time.
Add another little bit of boiling stock if necessary
When the pasta is "al dente", switch off the heat, cover and let rest for 1 minute.
Garnish with extra virgin olive oil, trimmed flat parsley and one pinch of chili pepper.
Would you like to watch a video tutorial about this Chickpea and Carrots ragu past? Here it is on Sicilianbake Instagram highlights.
Click on the image!
Tags:
beans
,
carrot
,
carrots
,
chickpea
,
chickpeas
,
italian food
,
mediterranean diet
,
pasta
,
plant based diet
,
ragu
,
sicilian food
,
sicilianbake
,
vegan
,
vegetarian