Meatballs in tomato sauce are a globally beloved Italian classic. But did you know you could also have beanballs in tomato sauce and that they are delicious?
In Sicilianbake home we are definitely omnivore, but we also try to keep a varied balanced diet and not to eat meat more than two times a week. At the end of the day, we need to leave room also for other sources of protein such as fish, eggs, dairy and pulses.
Today hip people call it to be flexitarian, my beloved granny in her Sicilian/Mediterranean wisdom called it "to eat properly".
Pulses, in particular, are a precious ally in a varied diet. I love them and I like to  eat them frequently, but in traditional Italian cuisine they are used mostly as ingredients for soups and salads.
As much as I adore a good pasta e fagioli, in the long term sticking just to that can be a little bit boring .
So, I am always looking for more creative ways to use beans, chickpeas, lentils and peas.
Beanballs are one of my favourite ways to include pulses on our table.
They are easy and quick to do, generally please everybody, and paired with a source of carbs such as rice or couscous will keep you happily satisfied.
Ingredients

€5.00 (4 Servings)
Black beans

(can) drained

1 unit

Egg

1 unit

Dried Breadcrumb

(as required to have a firm mixture plus the ones for breadcrumbs)

100/150 gs

Garlic

(half clove)

1/2 unit

Extra virgin olive oil

spoons

3 tbsps

Salt

As required

units

Yellow onion

1 unit

Basil

as required

units

Bay leaf

1 unit
Method
Start with the tomato sauce.
Finely chop one onion, add a bay leaf and gently cook it in a pot with extra virgin olive oil at a low heat until transparent.
Add the tomato passata and bring to the boil. Add salt and reduce to simmer.
My favourite passata brand for this kind of recipe is Mutti, because it is naturally sweet and it does not need added sugar*.
In the meantime, blend coarsely in a bowl the drained black beans with a hand blender.
Add one egg, salt and a minced half clove of garlic.
Gradually add the dried breadcrumbs (**) until you have a firm mixture.
If the mixture turns to be too dry you can correct with olive oil.
Wet your hands and make walnut size beanballs, rolling a small piece of the mixture between your palms.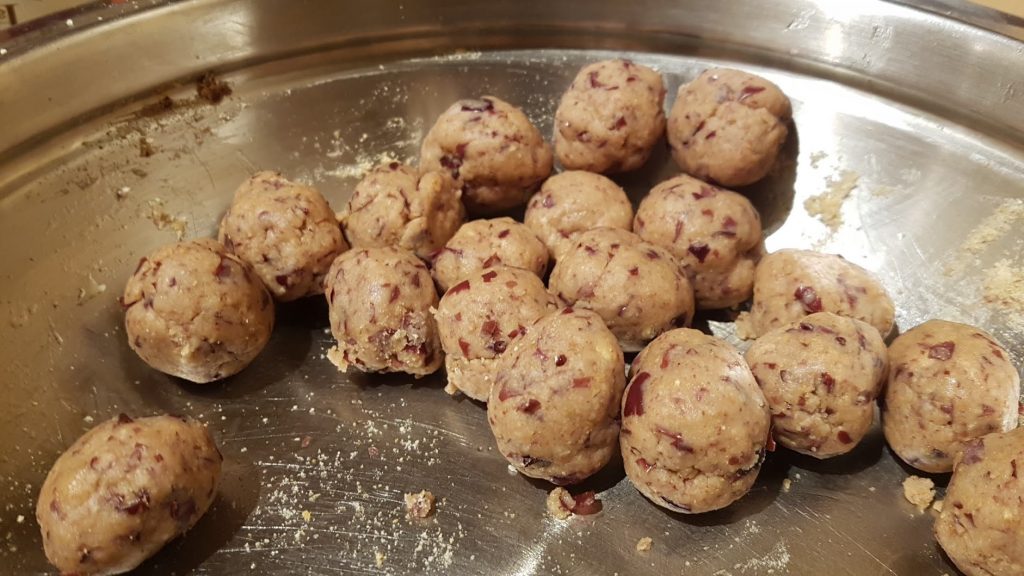 Roll the beanballs in the remaining breadcrumbs and place them in a tray lined with baking paper.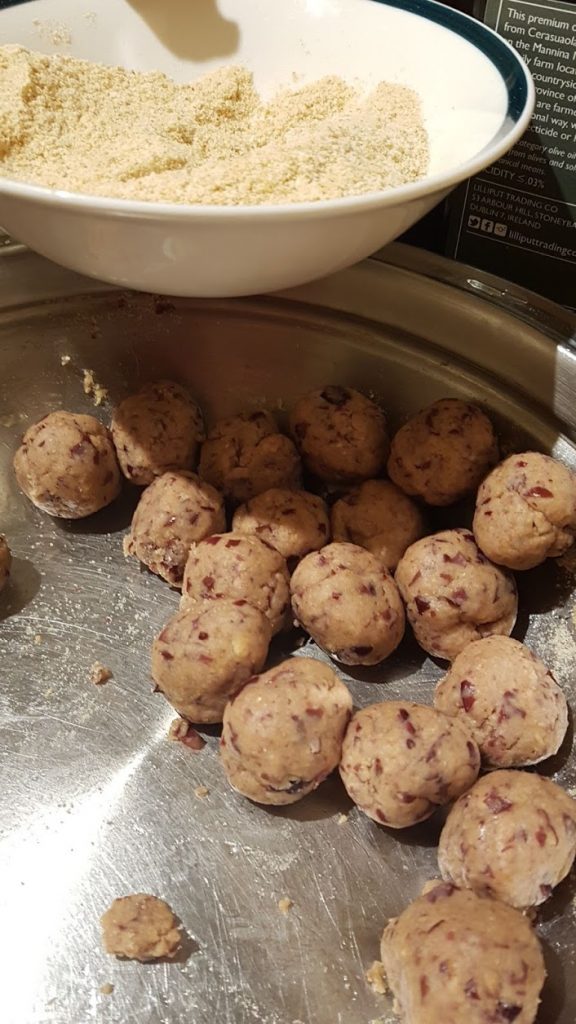 Sprinkle with extra virgin olive oil and cook in pre-heated oven at 200°C until golden (approximately 10/15 minutes but every oven is different!)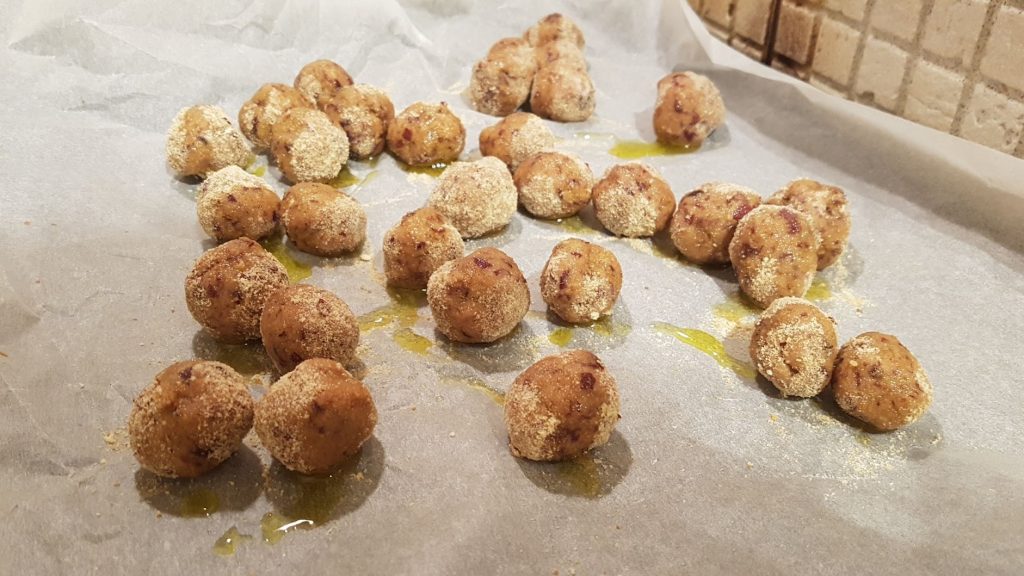 In the meantime, your tomato sauce should be ready. It is perfect when thickens a bit and the surface has these small holes.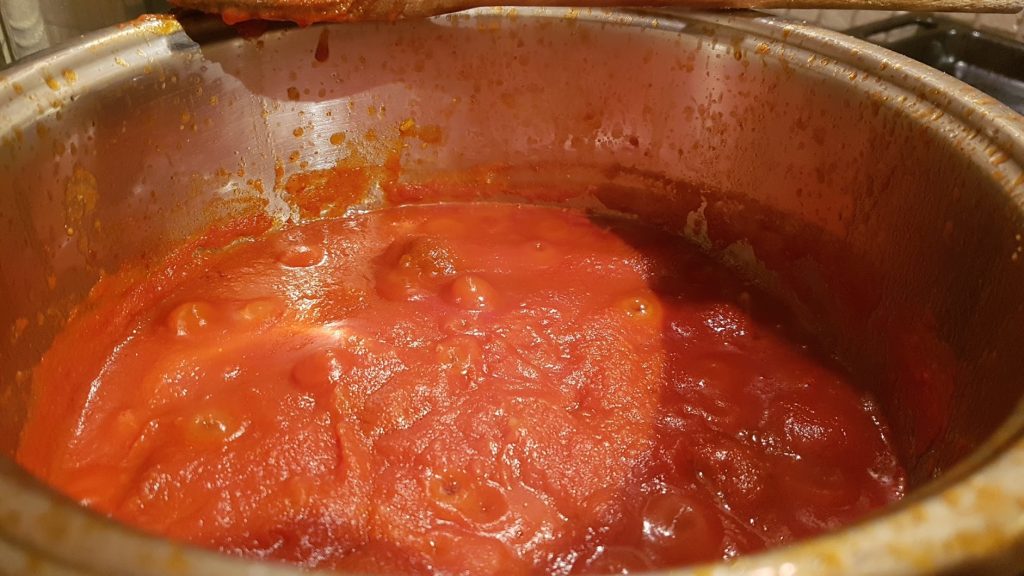 When the beanballs are golden, remove them from the oven and gently immerse them in the sauce. (Kitchen thongs or a pair of spoons are your best friend!)
Cook for 5 minutes.
Switch off the heat, add the basil and it's done!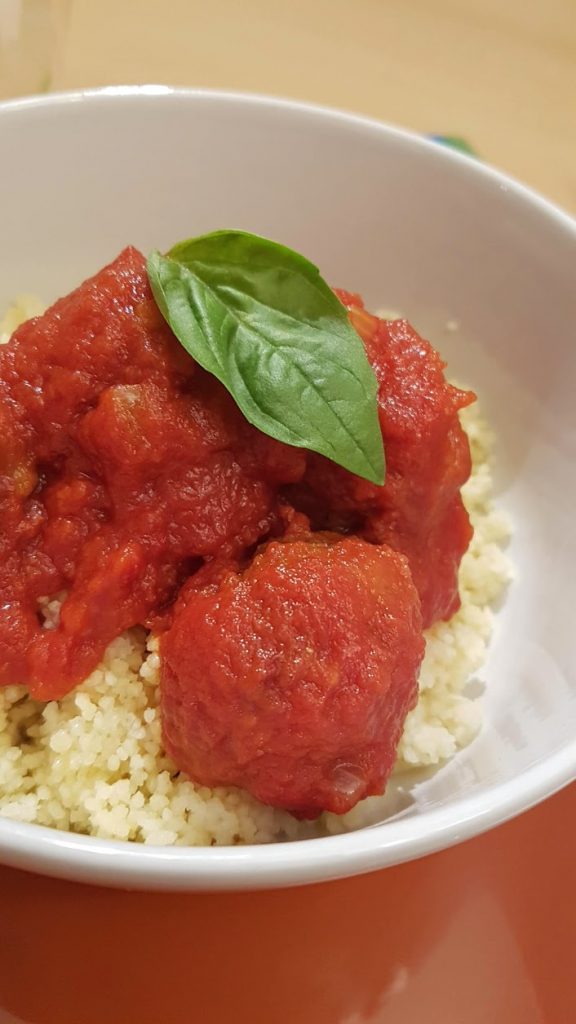 Notes
*Disclaimer: This is not a sponsored post. I do not have any association with the brands or shops mentioned in the post. I was not paid for this recipe nor I received free products. Sicilianbake is open to collaboration with brands and companies but in that case the nature of the relationship will be specified in the post.
**Shopping tips: I prefer dried breadcrumbs because I find that with them you can get a better result and also they last a long time outside the fridge. You can buy dried breadcrumbs in Italian and Polish shops. If you want to use fresh breadcrumbs, they will work well t0o, but you will need a smaller quantity.
Tags:
beanballs
,
beanballs in tomato sauce
,
beans
,
dairy free
,
dinner
,
dinner ideas
,
dublin
,
food
,
italian food
,
legume
,
meatballs
,
meatless
,
pulses
,
recipe
,
tomato
,
tomato passata
,
tomato sauce
,
vegetarian
,
vegetarian recipe