Let's celebrate the first recipe on Skitikkio with one of my family's best kept secrets. Salads with boiled potatoes, tomatoes, onions, capers, anchovies and many other Mediterranean classics are very common in Sicily. Especially in Palermo.

In my hometown the greengrocers spend all day boiling potatoes in big cauldrons in the streets. So you can buy them steaming hot whenever you want (even H24!) for a quick snack on the road. Otherwise you can go back home with your little treasure and prepare a quick salad with some of the ingredients that you can always find easily in the fridge of a Sicilian family.
Palermitan greengrocers are also suppliers of many other street food delicatessen (roasted onion, roasted peppers, boiled artichokes in lemon water etc.).
I promise a complete reportage about that during my next travel in Sicily.
Going back to our salad. This is my family version. My mom's tricks are basically three. Prepare the dish the day before (so all the flavors will blend well), cut all the vegetables in very tiny cubes and the infallible method "a stricasale".
Stricasale (literally "salt-brushed") is a good way to make raw onion softer and milder. In other words, appreciated even by those who usually dislike them.
But, why "Love Salad"? That's an easy recipe, but it requires a bit of time and patience but it's worth it. In short, a real treat for someone you really love.
Check out the recipe below for all the details and let me know if you try it!
Ingredients

€3.50 (4 Servings)
Extravirgin Olive Oil

2 units

Red Onions

2 units

Potatoes

2 units

Tomatoes

2 units

Celery

(a couple of stalks)

2 units

Green Olives

15 units

Red Wine Vinegar

White, if you prefer a delicate taste

2 units

Salt

(one pinch)

1 unit

Black Pepper

(one pinch)

1 unit

Oregano

(one pinch)

1 unit
Boil and peel the potatoes. Let them cool completely and put them in the fridge. In the meantime peel and dice the onions. Put them in a colander add a couple of spoons of salt and brush them with the salt so that they expel their water.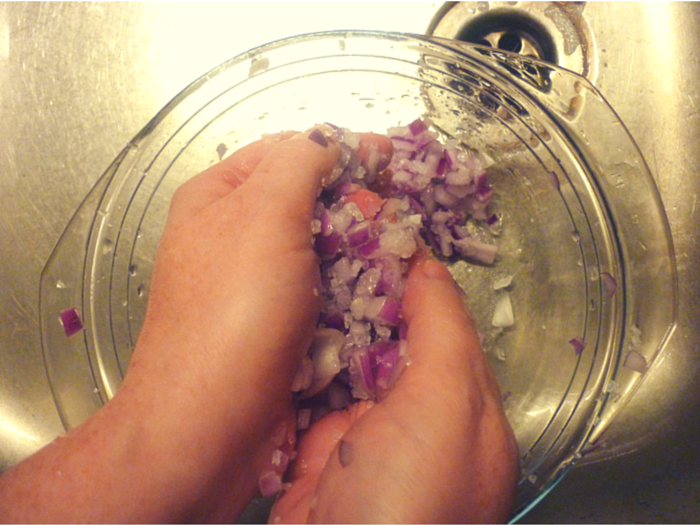 Rinse the onions with fresh water and squeeze and drain. Add the salt again and repeat the process until the onions become soft. Put them in a bowl.
Dice the potatoes (it works better if they well chilled), the tomatoes, the celery, and the olives, and add them in the bowl with the onions.
Season with salt, pepper, oregano, olive oil, and vinegar and let it rest at least for a couple of hours in the fridge.
Serve it as a starter or a side dish. It matches perfectly with grilled meat or fish.
Tags:
love salad
,
olive
,
onion
,
palermo
,
potato salad
,
salad
,
sicilian recipe
,
sicilian salad
,
side dish
,
tomato