It's harvest time, so let's study a bit in order to be prepared for the next buying season. Shall we?
Purchasing olive oil is a great challenge these days, especially for an Italian expat.
Frauds are just around the corner as showed some time ago in Extra Virginity by Tom Mueller, the author of one of the most complete book and website on the topic.
In Italy the most conscious consumers go directly to the source in order to avoid this kind of trap. Almost everyone has a relative or a friend who is a professional farmer or just passionate with a small piece of land and some olive trees.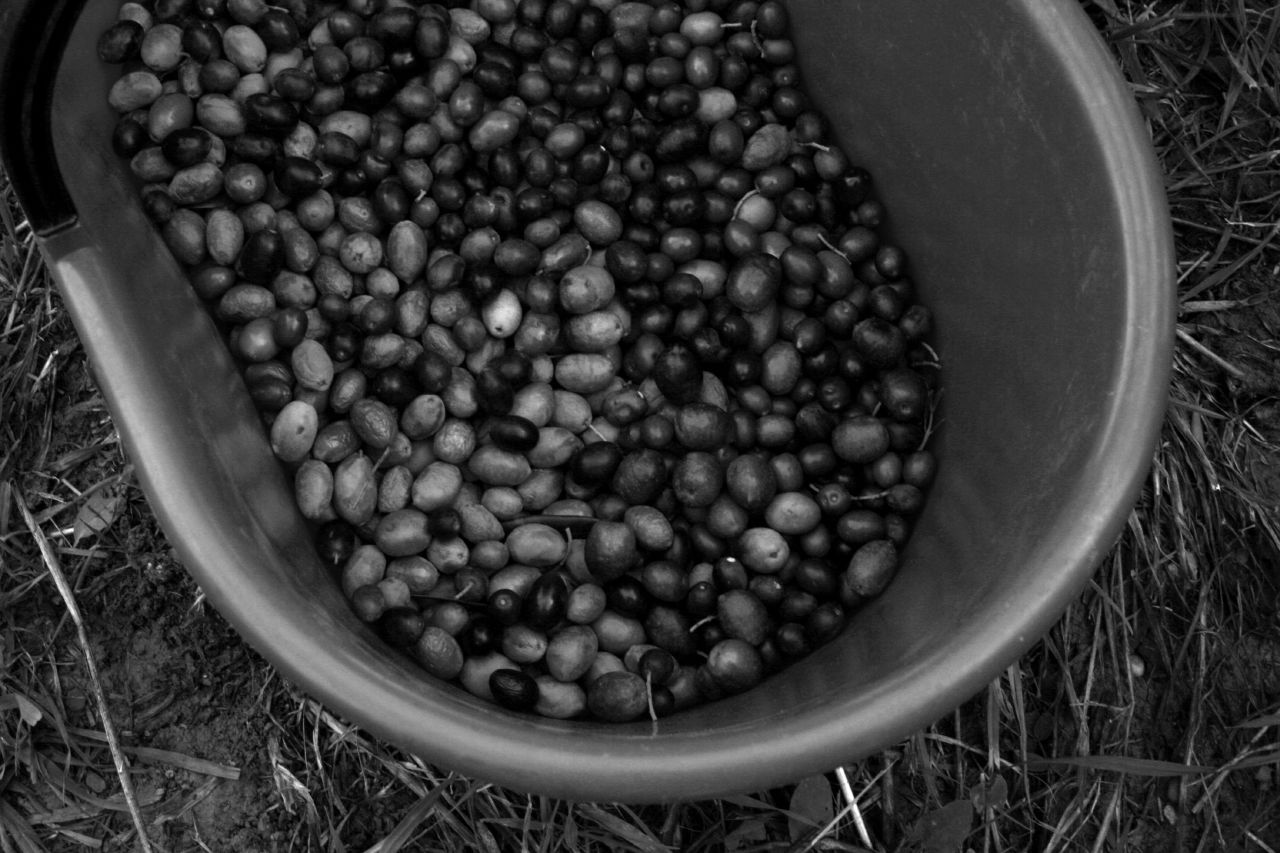 This option is not of course that easy if you live in a northern European country such as Ireland.
Moreover, from what I often see on Irish shelves, there is a certain trend among Italian, Spanish and Greek exporters to sell abroad what they would never put on the market at home.
Maybe they are affectionate to the best part of their production and they prefer to keep it for the locals. Or maybe they rely on the lack of information among the consumers where the use of olive oil is a recent phenomenon.
Anyway the thing is, we know that extra virgin olive oil is good for our palate and for our health. So, how can we escape all this confusion and choose the best olive oil that the Irish market can offer?
Well, here you have some tips. They are very basic. I am just passionate about olive oil and not a professional assayer. But following them, you should surely avoid most evident scams and will bring home a good, decent and honest product.
1. I am the Lord of containers: you shall not have strange containers before dark glass and tin.
There is not a serious olive oil farmer on this planet that would take care of his trees and olives for a whole year and then put the result of all this in a plastic bottle. Really, there isn't. Plastic is not good for olive because phthalates are soluble in oils. Plastic is often preferred by exporters because is cheap and resistant. But, believe me, if it is in plastic it is not a good oil. Your best choice is tin or dark glass, in order to protect the oil from light.
2. You shall not take the name of the Extravirgin in vain
According to European law extra virgin oil is the only one obtained by the use of mechanical means only, with no chemical treatment and it must have an acidity level lower than 0.8% (but best oil are under 0.2%).
Don't trust any other definition like "pure", "light" oil, "olive oil," "pomace olive oil". They all means that these oils have undergone chemical refinement and this is bad for the flavour and cause partial or complete loss of all health benefits. In particular, don't trust the term "refined", it does not mean that the oil is in some way "elegant", it is a worse quality.
3. Remember to keep holy flavour and the colour.
Don't be scared of flavour or color. Extra virgin olive oil can be mild or robust, this usually depends upon the geographical region and the variety of olives (cultivar). For example, the ones from northern Italy are milder and the ones from the south are stronger. It can be greenish or pale straw. But its flavour can not be irrelevant or "light", as some labels say. It must remind you the olives. At the end, in its better form, it is fruit juice, plain and simple (yes, olives are fruit!). So, if you see on the shelf of the supermarket something that resemble more to car oil or reminds you of diluted lemonade. Just, leave it there! On the other hand, colour can be faked in many ways and the flavour, as well, if your palate is not well trained. But let's say that this is a starting point.
4. Honor the traceability and the label
Sentences like "bottled in Italy", "packed in Italy" (or in Spain or in Greece) are not a guarantee in itself. There is a big ambiguity in trade laws for this kind of product. It is very easy to bypass the rules by simply bottling in Italy some low quality oil imported by tankers from other EU countries or even non EU countries where the laws about agriculture are less strict and the labour force is cheaper.
So, what can we do to repay the honest and hardworking producers on the market, who – of course – are the smaller ones?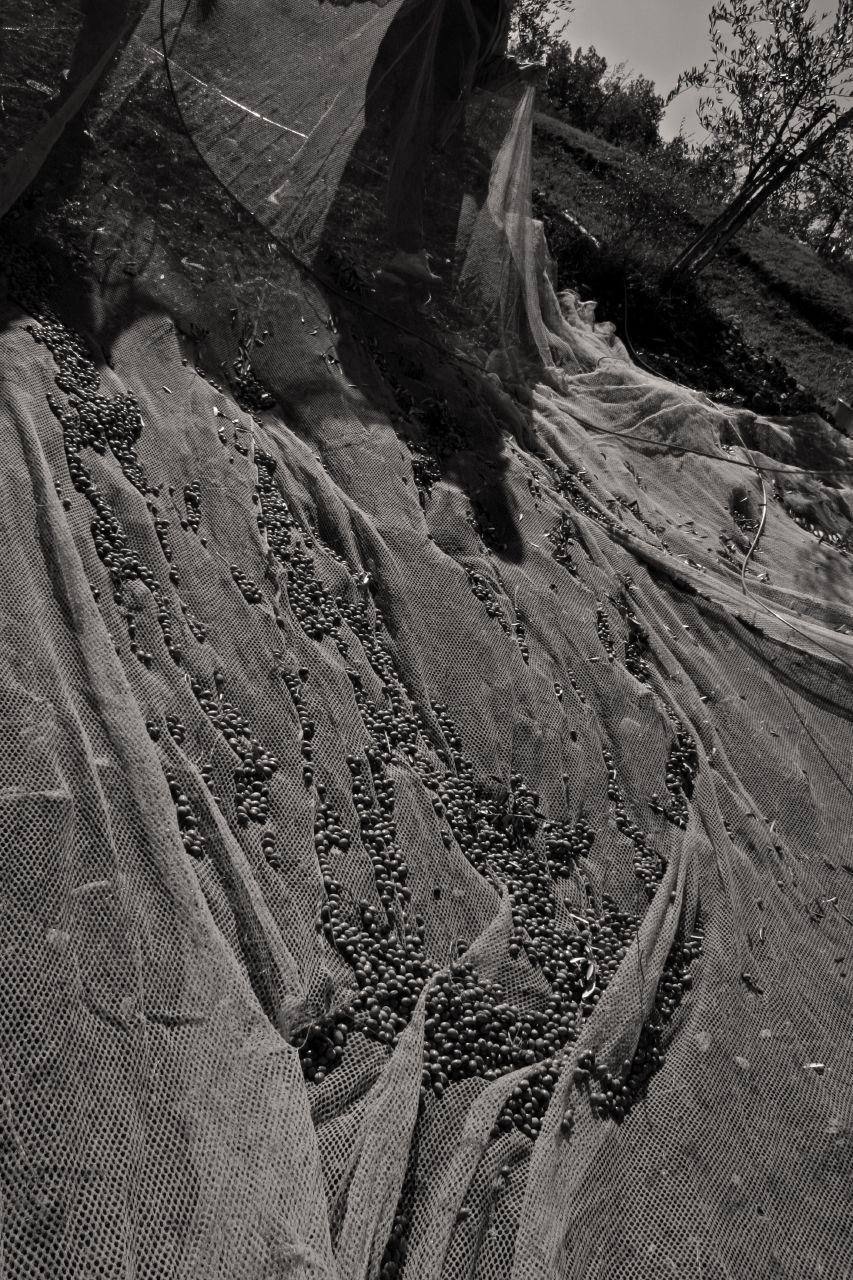 We have to read the label very carefully. If the producer doesn't want us to know the origin of the olives, the date of the harvest, the cultivar (which is the variety of olive) or the mill…He probably has something to hide. Let's give our money to people who are more transparent and honest.
The ideal thing would be to come into direct contact with producers. Here in Ireland in some farmer market you can meet some italian farmers who sell directly. Otherwise you can take a look at the Internet. In the last few years a lot of small producers are going online and are more used to dealing with foreign customers (we take our time, as Italians, we are a bit slow with languages…).
An additional help for the consumer are certifications like PDO and PGI, Dop and Igp in Italian. This kind of legal definition are quite common for some Irish products as well so probably there is no need to explain much.
5. You shall not kill the olive oil with a weird mix
I have seen, in many Irish shop, olive oil ready sold mixed with some flavours (lemon, oranges, herbs, ecc.). If you don't want to be cheated this is a very big mistake. Of course, with addition of other flavours it is more difficult to evaluate the quality of the oil. So the probability that you are buying some mysterious mix of second quality oils or maybe some old or rancid oils "freshly renovated" is very high. Just buy the plain one and add the flavours at home.
6. You shall not commit deterioration
Once you caught your favourite oil don't commit the sin of ruining it with bad preservation.
Olive oil has three enemies: time, air and light. Keep in a fresh dark place away from the heat of your oven or your stove.
7. You shall not stock it forever
In the previous point I mentioned time. As all things, olive oil doesn't last forever. Generally speaking it preserves its best characteristics within two years after the harvest. This is done between october and december. So if you have a direct contact with a producer buy in bulk the quantity that you need for your family for one year. And then buy the fresh one next year.
You will save money and time.
If you buy in a supermarket, Just keep in mind the two years expiring period. For example at the moment you can't have the 2015 oil because it is not ready yet. You'll probably find tins and bottles with 2016 expiry date that are referred to the last harvest from 2014.
8. You shall not steal the farmer's income
Extra virgin olive oil is not cheap. Especially if you buy it at thousands of kilometers of distance from the area of production. Its production, if well done, has a cost so does its transport. But you don't have to use tons of it. A couple of spoons per person a day is more than enough.
So use it wisely and every drop of it will be a good investment for your taste buds and your health.
The big competitors in the market (who control the most common retail brands) are artificially keeping down the price of olive oil saving costs on the origin of the olive, making frauds with mix from refined oil and buying from suppliers who exploit labor force inside and outside EU. As consumer we have the responsibility to pay farmers a fair price for their product. All considered, I don't think it is possible to respect the quality of the product and a fair payment for the producers if it is sold under 10 euro per litre. I always say, if it costs less than olives, maybe there aren't olives in it!
9. You shall not covet other oil for cooking
There is this idea around the Internet that extra virgin oil is not good for cooking or frying and it safer to use it only as a seasoning for the salads because of its lower smoke point. This is a complete myth. You can do almost everything with extra virgin olive oil (even remove your make up and treat your skin!), it's just a matter of costs. Of course, you have to be careful of the smoke point but this is easily done with a thermometer or paying attention to the smell of the oil while cooking. The most important thing is to never reuse or warm again the oil after frying, but this is a good rule for every kind of frying oil.
10. You shall covet your neighbor's oil and ask for advice

If you have any friend who is passionate about food and like olive oil, talk with them, exchange tips about markets and farmers. According to my experience it is one of the best ways to find the real gems on the market. Personally my last choices about oil are equally distributed between retail and farmers market and are both of sicilian origin. (I admit it, I am a bit of a nationalist when it comes to this).
The first one is Sicilian Fine Foods DOP Monti Iblei Extra Virgin Oil.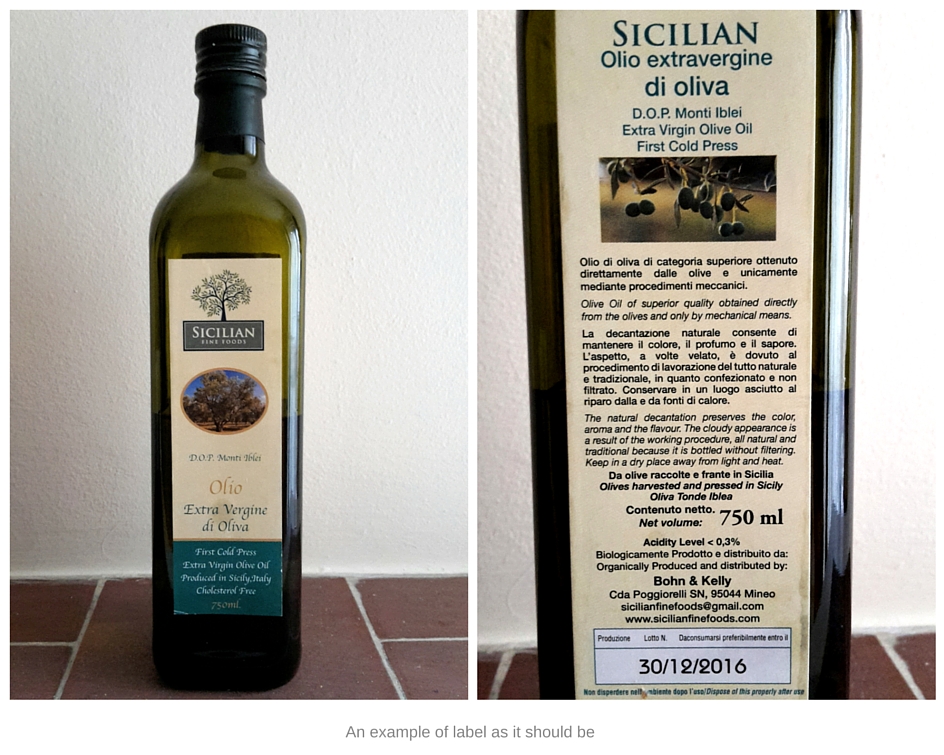 I found their nice dark glass bottle in the Fresh Supermarket in Smithfield. Its detailed label really impressed me.
First of all there is a Monti Iblei Dop that clearly positions the origin in the mountains of the south east of Sicily. Then, we have a clear statement "olives harvested and pressed in Sicily", and we even have the cultivar, which is "oliva tonda Iblea".
Acidity level is minor to 0,3 that is less than what requested by the law. And we have the exact address of the producers and the expiration date that is in december 2016. Then, we can suppose it is from the 2014 harvest, the freshest available at the moment.
What more could one ask for more?
Another recent catch is the oil from U Casali.  I met Sonia and John at the Bite Food Festival where they were selling their oil obtained by the "nocellara dell'etna" cultivar in their farm in Sicilian highlands . We talked a bit about their will to maintain high the quality of their oil without expanding the production drawing upon oils from other sources. They gave me a small sample of their oil and the taste is absolutely great. They have a nice website in english where you can get a look at all their product and you can be updated about their presence in Irish farmers market through their Facebook page.
And you? Where do you buy your olive oil in Ireland? Do you have any tips for me?
And last but not least, after this long discussion I leave you with the most important commandment of all:
You shall love your Extra Virgin olive oil as much as you love your arteries.

Tags:
dublin
,
extra virgin olive oil
,
fresh supermarket
,
how to
,
how to buy
,
olive oil
,
sicilian fine foods
,
sonia virzì
,
u casali