Pistachio cookies, aka paste al pistacchio, are a quick traditional Sicilian treat for those who have a sweet tooth.
Together with almond biscuits they are the typical sweet biscuits of eastern Sicily (pistachio nuts and almonds grow particularly well on the land near to the Mt Etna volcano, where the soil is enriched with lava).
If you have ever traveled in the Middle East or in Northern Africa you will find some similarities with some typical desserts of this area of the world.
It's not a coincidence.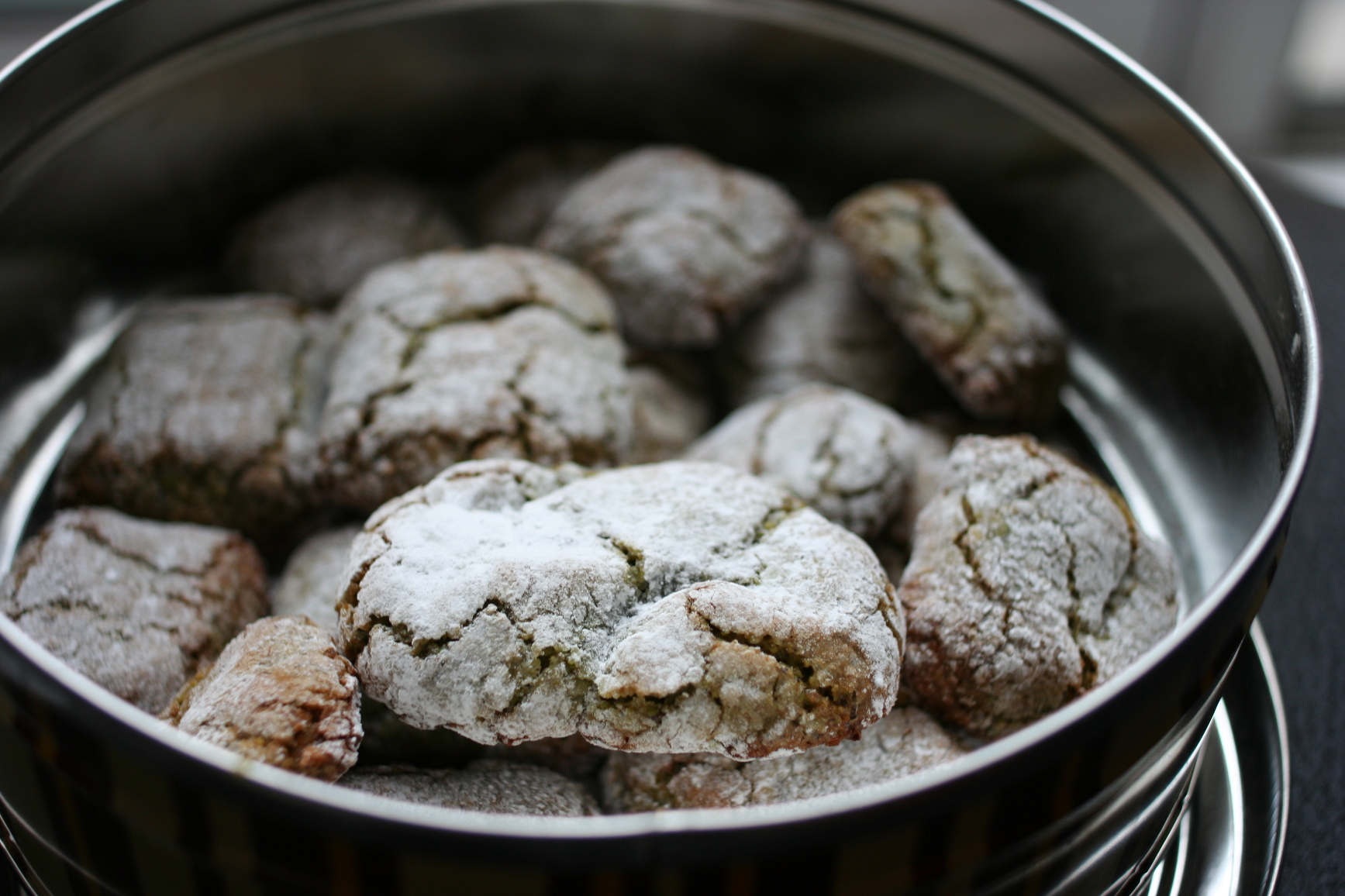 For its strategic position in the middle of Mediterranean Sea, its fertile land and it mild climate, Sicily has always been the object of desire of many conquerors.
Through the centuries we have been invaded by Phoenicians, Romans, Greeks, Byzantine, Normans (just like Ireland!) and many others.
The Arabs took control between 827 A.D. and 1097 A.D. Their domination is still remembered as one of the most splendid eras that Sicily has ever known..
They left us magnificent palaces and gardens. They improved our agriculture, taught us how to grow our well known citrus fruits, invented gelato and reinforced the position of Sicilian trade in the heart of the Mediterranean.
Nowadays traces of their presence can be found in many words of our dialect, in our churches that look like mosques and in our endless love for food. In particular, we owe them for our taste for almonds, pistachios, sugar and all that is sweet and fragrant.
We should remember better of this positive past fusion in these troubled times where the fight for money and oil is disguised as a clash of religions and civilizations.
Anyway, try these biscuits and you too will appreciate Sicily's Arabic heritage.
They are super easy and quick!
Ingredients

€20.00 (6 Servings)
Pistachio nuts

shelled and unsalted

500 gs

Caster Sugar

500 gs

Honey

25 gs

egg whites

4 units

Zest of lemon

1 tsp

Icing Sugar

(enough to spread on the pastry board)

1 unit
Finely grind the pistachio nuts.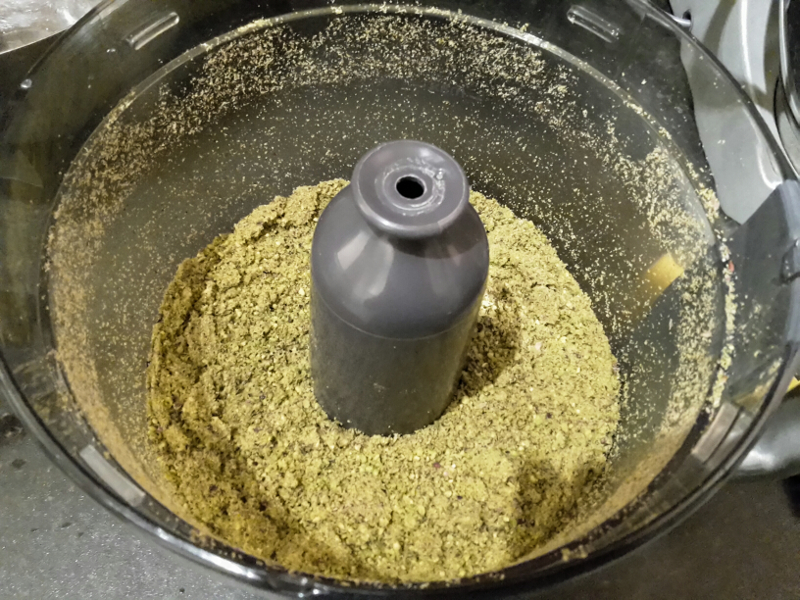 Mix them with the sugar and the honey.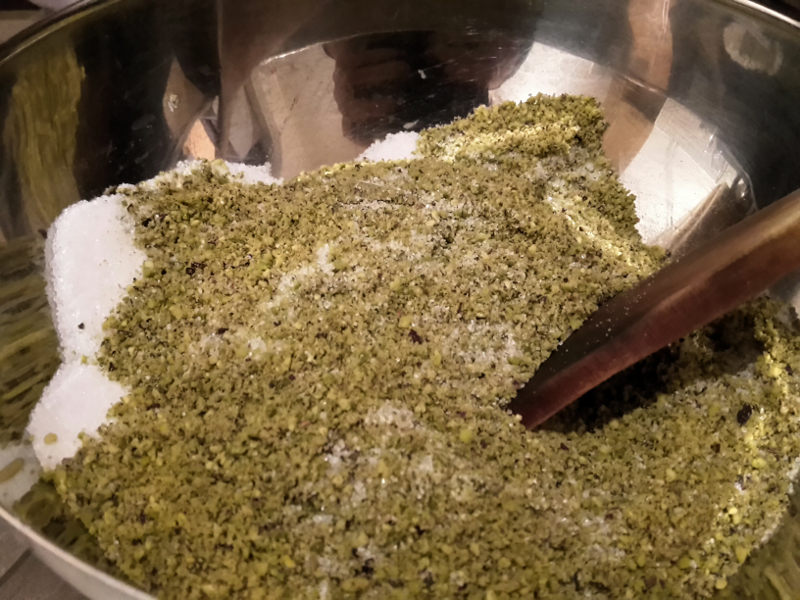 Add the egg whites and the grated lemon zest.
Be careful with the quantity of egg whites. If your eggs are large you could need less than four.
Basically you have to obtain a firm dough like the one you can see in these pictures.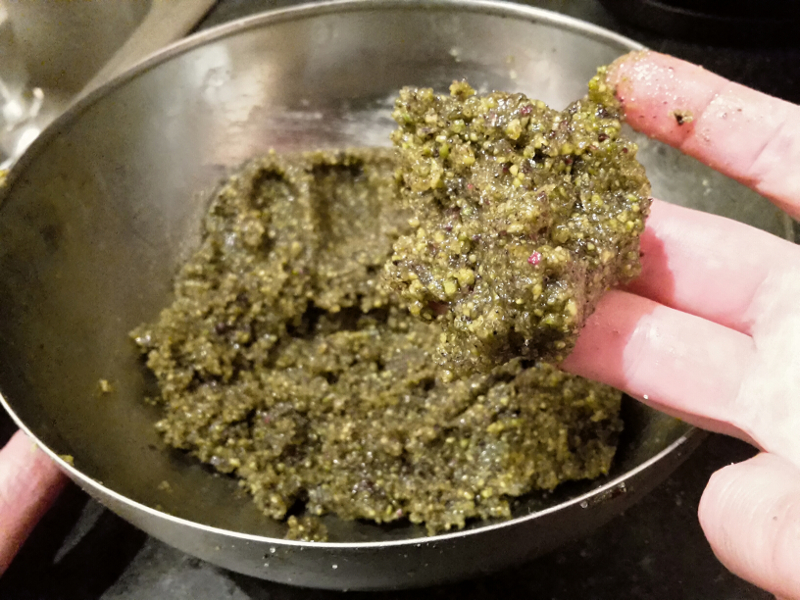 Sprinkle your pastry board with icing sugar, form a long sausage and then cut in small pieces.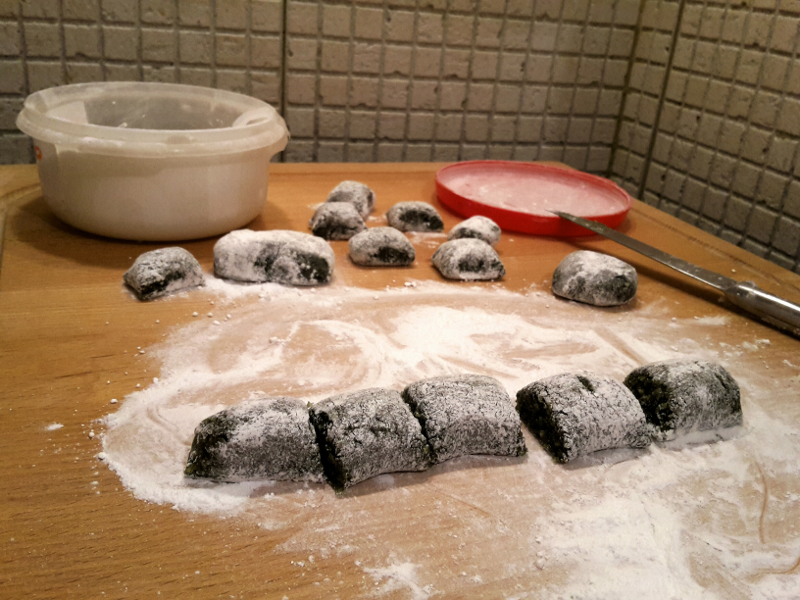 Form some small balls or give the shape that you like (traditionally an "S" shape) and put them on a baking tray covered with baking paper.
Put the baking tray into the oven at 180/200° (you know your oven!) for about 20 minutes until the biscuits start to be lightly golden.
Dublin Shopping tip: you can find pistachio nuts in Asian and Arabic shops
Tags:
biscotti
,
bronte
,
paste al pistacchio
,
pastine al pistacchio
,
pistacchio
,
pistacchio biscuits
,
pistacchio cookies
,
ricetta