With the start of 2016 in our home we got into the healthy mood. Sometimes it is nice to take care of yourself and have some clean and light food.
People still have this weird idea that "healthy recipes" are boring and difficult and require an extremely long preparation.
This is absolutely a myth and this chicken meatloaf with broccoli is here to prove it to you.
Speaking of being quick, good and easy we don't want lose too much time with introduction, right?
So let's go directly to the kitchen!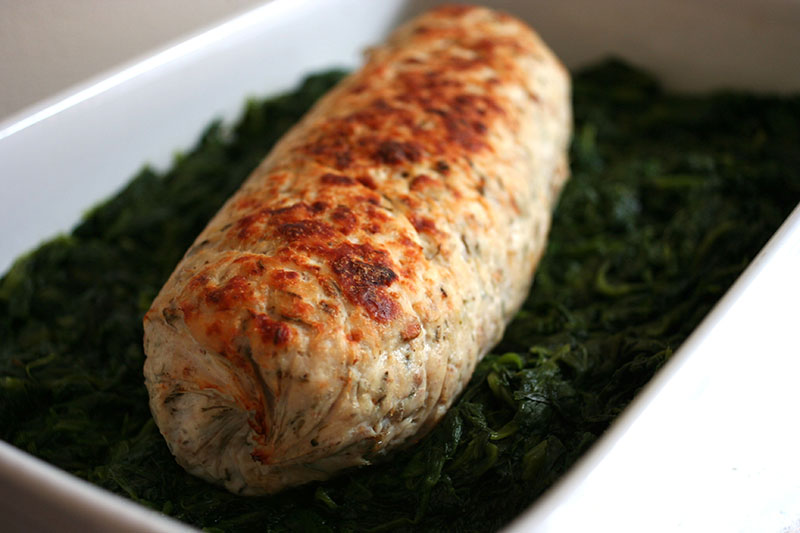 Ingredients

€0.00 (1 Servings)
chicken breast fillets

5 units

dried thyme

1 tsp

slice of wholegrain bread

1 unit

Bunch of Broccoli

1 unit

Parmigiano Reggiano (or the grated cheese you prefer)

(as much as needed)

units

Salt

(1 pinch)

1 unit

Black pepper

(1 pinch)

1 tsp
Steam the broccoli until tender let it cool and grind it coarsely. Add to the broccoli a pinch of salt and enough parmesan cheese (or the hard grated cheese that you like) to obtain a firm mix. Keep aside.
Grind- I will repeat myself – coarsely the slice of bread with a food processor and keep aside. Cut the chicken fillets in big chunks and with the same food processor mince the chicken. Personally I prefer a rough texture and I don't mince too much, but this is up to your taste.
In a big bowl mix the chicken mince, the breadcrumbs and the thyme, a pinch of salt and black pepper. You have to obtain a firm dough-like mass.
Cover a baking tray with baking paper. Spread the chicken dough in order to obtain a rectangular shape 1,5 cm thick.
Form with the broccoli mix a sort of sausage in the center of the rectangle.
With the help of the side of the baking paper, roll the chicken dough on the stuffing and close your meatloaf (remember to keep it tight) and seal it.
Close the sides of the baking paper as if it were a sweet wrapper.
Put in the oven at 200° for 20 minutes. After that, remove the baking paper and let it cook until golden.
Serve it with a side of steamed potatoes and spinach and you will have a complete and perfect balanced dinner.
Tags:
broccoli
,
chicken
,
italian meatloaf
,
meatloaf
,
parmesan
,
stuffed meatloaf