One of my favourite things is to discover and try new food products. In the last times I am obsessed with trout caviar.
I tried for the first time Goatsbridge Trout Caviar in Bites Food Festival some months ago. I found its combination of iodine and umami flavour so delicious that I soon started to think about what to do with it.
As all types of caviar, it recalls to my mind sensations of a super elegant atmosphere and luxury dishes. But, in comparison to its Russian sturgeon cousin, it is also has a bright orange colour and is definitely more affordable.
I started to experimenting with the trout caviar in some salads and canapés but, still, I didn't find the match that I was looking for.
I began to fantasising about a colour neutral base such as a white risotto and a delicate fishy match like Irish crab, when I met it again on the Goatsbridge stall in Bloom festival.
I did a good stock of it and I brought it at home together with the other treats that I found around during the festival and that you can see here below in the photo gallery dedicated to Bloom 2016.
I soon started to work on my idea of risotto and after a couple of attempts I am now ready to show you the final version of my crab risotto with trout caviar.
Don't be scared of risotto. It just requires a little bit of attention for a couple of technical details. Once you master them, in just 20 minutes you'll be able to obtain a perfect dish that will make you do a great show with your family and friends. Save this recipe for a special occasion and you will thank me.
Ingredients

€5.00 (4 Servings)
White risotto rice

(Arborio or Carnaroli are the best)

250 gs

Garlic

clove

units

Chives

trimmed (a pair of stems)

units

Vegetable or fish stock

1.5 ls

Dry white wine

(half glass)

0.5 units

Fresh milk cream

125 mls

Extravirgin olive oil

2 tbsps

Tomato pureé

tbsps

Trout caviar*

8 tsps

Butter

80 gs
Put the stock in a pot and bring it to simmer. The ideal one it would be a crustaceans stock made with the crab shell. But, if you don't have it, a good fresh vegetable stock made by simmering onions, celery and carrot covered in salted water for 20 minutes is your best option.
Let sweat the garlic clove at low heat in a sauce pot with high sides and a good thick bottom until lightly golden and remove it. Add the tomato pureé and stir.
(Remember, never ever allow the olive oil to smoke. If you get distracted and it happens, change it with a new one. Olive oil at smoke point is not only very bad for the taste of your dish but has also lost all its health benefits).
Add the rice to the pot with the oil and toast it at high heat until all the grains are opaque and start to lightly sizzle.
At this point, add the white wine and scrape the bottom of your pot for deglazing. Keep all other ingredients near you, because from this moment you never have to stop to to stir.
Gradually add the boiling stock to the rice, one scoop at a time.
Add the following scoop only when the previous one will be completely absorbed and go on stirring.
A good risotto must be creamy but yet with all its rice grains well separated from each other, and absolutely not melted and overcooked.
The compact texture of the grains is obtained through the toasting the you do at the start of the cooking and the creaminess is given buy the gentle but continuos stirring that helps the rice to release its starch. Don't skip these important steps for a real risotto like a pro.
When the rice is almost ready add the crab meat and stir again.
(You don't necessarily have to finish all the stock. Just consider the cooking level of the rice).
Add the milk cream. Stir it and switch off the heat. Now you have to do the "mantecatura" which is…. the Italian culinary word for the action of  adding a fat ingredient to a dish and stirring to obtain a creamy soft texture.
So, add the butter to the rice and stir it very quickly until the rice is creamy and not too dry (add some stock if gets too dry).
Italian chefs say that the right consistency is reached when the rice is "all'onda" (on the wave). This means that, if you do a quick sauté movement, the risotto should form a nice wave. Nothing less, nothing more.
Put the rice very quickly in your dishes (otherwise it will absorb all its liquid and will become dry again). Risotto should be served in a flat dish, not a bowl. Gently tap the bottom of the dish to help the rice to  spread nicely in a regular round form.
Garnish each dish with a couple of tea spoons of trout caviar and the trimmed chive.
Serve it super immediately and Buon Appetito!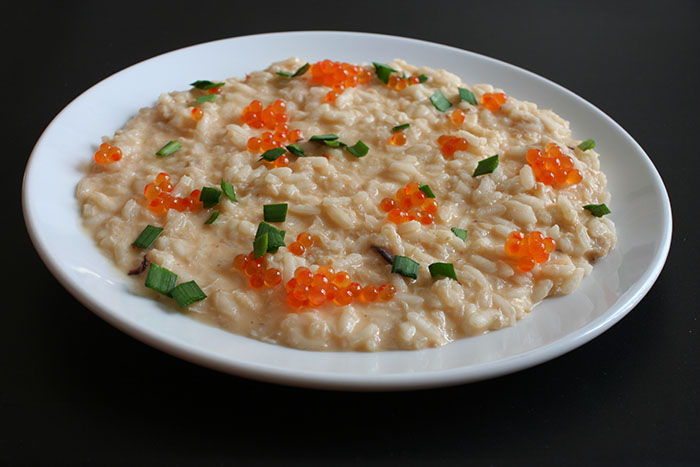 *Disclaimer: This is not a sponsored post. I was not paid for these recipe nor I received free products. Skitikkio blog is open to collaboration with brands and enterprises but in that case the nature of the relationship will specified in the post.
Tags:
caviar
,
crab
,
fish
,
irish food
,
irish italian food
,
italian food
,
rice
,
risotto
,
seafood
,
seatrout
,
shellfish
,
trout