"We need to talk about seaweed" claimed the t-shirt worn by Jp McMahon during last Food on the Edge Symposium. And we really should talk more about this Irish food which, for example, goes extremely well with chicken.
I spotted seaweed for the first time in a health shop in Dublin. I even wasn't aware that they are edible at the time. I bought a couple of bags (dulse and carrageen), because I can't resist putting  my hands on a new ingredient, of course. But then… they stayed in my cupboard for a while. I really had not any clue about what to do with them.
Finally, I found the ultimate bible for cooking with seaweed, the gorgeous book from Prannie Rhatigan, Irish Seaweed Kitchen. Since then I became a big fan of this sea vegetable that once was a real staple food in the west of Ireland.
In his tireless effort to put Irish food at the centre of the international scene, McMahon has more than one reason for promoting Irish seaweed.
There is a huge heritage of history, culture, and food traditions connected to harvesting and consuming seaweed in Ireland. Fishermen from the West coast used them pretty much for everything, from treating cold to fertilizing fields. And there is, of course, an entire range of recipes from starter to desserts.
Their natural match is fish but you will be surprised about how much their umami flavour goes well with meat. At the end of the day, that's what we love in Japanese cuisine, isn't it?
Recently I came up with this chicken with sundried tomatoes and seaweed. Pair it with brown rice for  a super easy and healthy dinner. Try it and let me know what you think!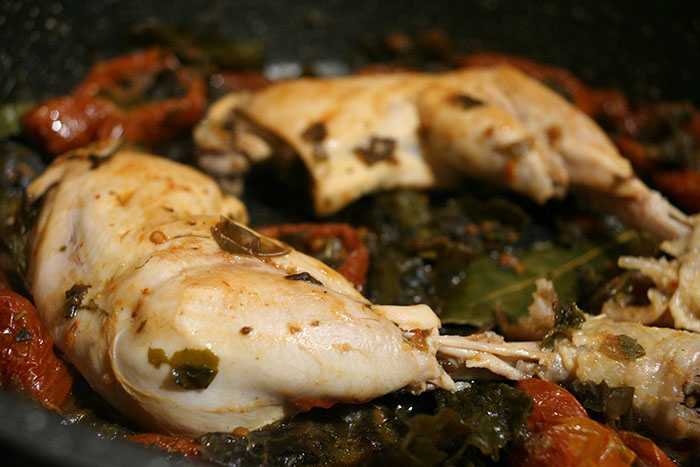 Ingredients

€0.00 (4 Servings)
Chicken legs

4 units

Sundried tomatoes

100 gs

Garlic

(clove)

1 unit

Chopped mixed seaweeds

(I used AlgAran Organic Irish Seaweed Salad)

40 gs

Extra virgin olive oil

4 tbsps

Vegetable stock

1 cup

Dry white wine

(one glass)

units
Let soak the sundried tomatoes in warm water until rehydrated
Heat in a large pan the olive oil (do not reach the smoke point!) Put the garlic and a bay leaf and cook until the garlic is lightly golden
Lay the chicken and cook at high heat for 3 minutes and turn it
When the chicken starts to brown deglaze with the wine
Once the wine is almost evaporated add the tomatoes and the seaweed mix and add a cup of vegetable stock
Lower the heat to medium and let cook covered for 20/30 minutes (time can vary according to the size of your chicken). Pinch it with a fork, if the juices run clear the chicken is well cooked
Serve warm and… buon appetito!
If you appreciated seaweed in this recipe, have a look at these seaweed scrambled eggs from Niamh O Shaughnessy from Gourmet Grazing blog.
Shopping Tips: you can find Irish seaweed in Dublin in health shops and food markets and festival.
*Disclaimer: This is not a sponsored post. I was not paid for these recipe nor I received free products. Skitikkio blog is open to collaboration with brands and enterprises but in that case the nature of the relationship will specified in the post.
Tags:
capers
,
chicken
,
dinner
,
food on the edge
,
healthy
,
irish food
,
irish italian food
,
irish products
,
irish seaweeds
,
meat
,
recipe
,
recipes
,
seaweeds
,
sundried tomatoes