Turkey is a wonderful meat when it is good quality. These orange and mint escalopes are a super fast and easy idea for a midweek dinner.

From time to time I like to include among my food suppliers a good range of local Irish producers.
As an Italian living abroad, I am not too strict on my locavore policy. Otherwise, I should quit with too many treats coming from the motherland.
However, every time I can, I am more than happy to support local economy and avoid big retail and products coming from intensive livestock farming.
Small producers are not always less expensive than big supermarkets, for a long series of good reasons.
So, in order to save money, what I do is buying in bulk and, if necessary, improving my butchering skills.
My last conquer was a gorgeous 5 kg free range turkey that I purchased from Westernshore Organic* before Christmas. Given that turkey is not exactly the main actor in an Italian Christmas menu, I put to work my knife set and I obtained minute steaks, minced meat, two butterflied rolls from one leg and one breast, wings and a leg to roast and even a carcass for a wonderful stock. (Because in the kitchen nothing must go wasted!)
Now all this is nicely stored in our freezer and will feed us for 10/12 meals. The meat is really good quality, tasty and tender. So, I strongly suggest you to do the same.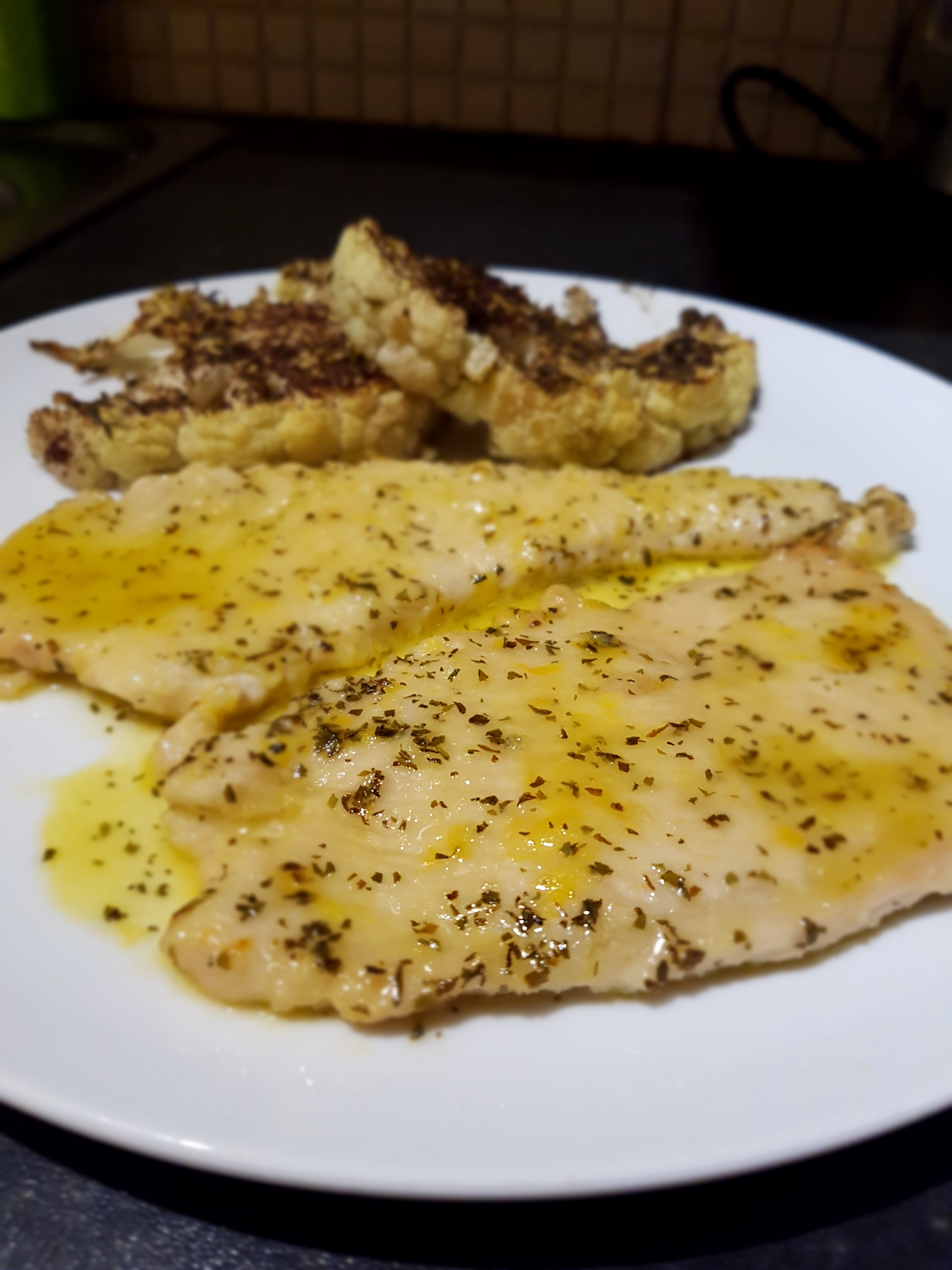 If you are thinking that you have not a clue about how to cut out a turkey. Well, neither did I. But nowadays Youtube has an answer for every question (if you are not too faint-hearted).
So, this one was the tutorial that I followed to cut the raw turkey.
And here it is how you can cut some nice and tender thin slices from a chicken breast. You can you use the same method for turkey and all other big birds, of course.
Once you master this art you can do tons of Italian recipes such as meat rolls (involtini), saltimbocca, fettine panate (breaded minute steaks) and, of course, these zingy escalopes.
An escalope (or "scaloppina" in Italian) is a slice of boneless meat that has been thinned out using a particular mallet (like this*) (or whatever heavy flat tool you have). In this way, the meat is tenderized and it cooks faster remaining juicy.
If you do not want to do this preparation on your own you can ask your butcher to do this for you.
Classic Italian scaloppine are made of veal, chicken, or pork and cooked with lemon or wine. Here's to you my little turkey orange flavored variation.
Ingredients

€5.00 (2 Servings)
Turkey slices

thin and tenderized

4 units

Dry white wine

(half glass)

1 unit

Juice of one half of orange

1/2 unit

Dried Mint

one pinch

1 unit

Plain flour

as required

units
Put in a pan enough extra virgin olive oil to cover the bottom and heat it.
Fill a large bowl with the flour and press the turkey slices in it from both sides. When they are evenly coated with the flour, shake them to eliminate the excess.
Gently fry the slices from one side and turn it when the edges start to become white
When both slices are lightly golden, season with salt and deglaze with the white wine*
Cook at medium heat until the sauce starts to thicken. Move the pan continuously to avoid that the escalopes get stick to the pan
When the sauce is dense and creamy add the mint and the orange juice and cook until dense again. The heat must be low in this step because otherwise the orange juice will become bitter.
And it's done! See how easy it was? I served them with za'atar roasted cauliflower from Properfood.ie, which is a perfect Mediterranean match for this dish.
Let me know what you think about this recipe and buon appetito!
*Dear Revenue and readers, I don't have any commercial relationship with Westernshore Farm. I only mentioned them because I am a happy customer and their products are great ;D I don't have any collection with the mallet seller either nor with Amazon. But I was not able to find a suitable image of an Italian batticarne which was not coming from a commercial shop. Please, have mercy!
** You can use white wine even if you are doing escalopes for your children. The alcohol will evaporate completely during the cooking process. Anyway, if you prefer a milder taste, you can use vegetable stock.
Tags:
dinner
,
dinner ideas
,
escalope
,
free range
,
free range meat
,
free range turkey
,
irish food
,
irish meat
,
irish producers
,
italian food
,
mint
,
minute steak
,
orange
,
orange sauce
,
recipe
,
scaloppine
,
skitikkio
,
turkey