Beetroots are not only for salads and soups. They can be the main ingredient for an original and vibrant dish of pasta. Especially if they are first quality and come from your local CSA.
To be honest this recipe is freely inspired to the classic beetroot and gorgonzola risotto from Italian chef Enrico Bartolini.
As usual, I have to do things in my own way so I used cavatelli pasta and a tempting Cashel Blue sauce to add an Irish twist and balance the beetroot sweetness.
Before the recipe, let's talk a bit about the origin of these beetroots and my recent journey in Irish locavorism.
I already told you the story of my turkey stockpile.
Now, it is the turn of my vegetable supplier. Some months ago I joined the Dublin Community Supported Agriculture group and I have to confess that this decision was definitely a win win for my taste buds.
Irish agri-food sector is mainly focused on meat  and this means that Ireland imports the most part of fruit and vegetable that you can find in supermarkets and even farmers markets. Having been harvested unripe and having travelled half Europe, these products are often not so tasty.
I suppose that this is more about economy, farming traditions and modern consumers habits then something imposed by the local climate. Modern technology can do miracles nowadays. And indeed Seamus Bradley, the farmer behind Dublin CSA, surprises me every week with its little miracles produced in his field in Celbridge, County Kildare. You should have seen my face when we had good, sweet cherry tomatoes and red peppers until late autumn.
But, what precisely is a Community Supported Agriculture? Basically, this is a group of people that commit to support one or more local farms sharing the risks and benefits of food production.
CSA members pay in advance for the future harvest season. Seamus weekly delivers to the subscribers their shares of products to Smithfield. Of course the vegetables are seasonal and different every week and Seamus' bag can be more or less generous from month to month.
But this is all part of the natural game, isn't it?
The CSA activities include also some socializing events and some group work days in the field. I did not have the chance to take part in none of them, but I am very curious and look forward to that.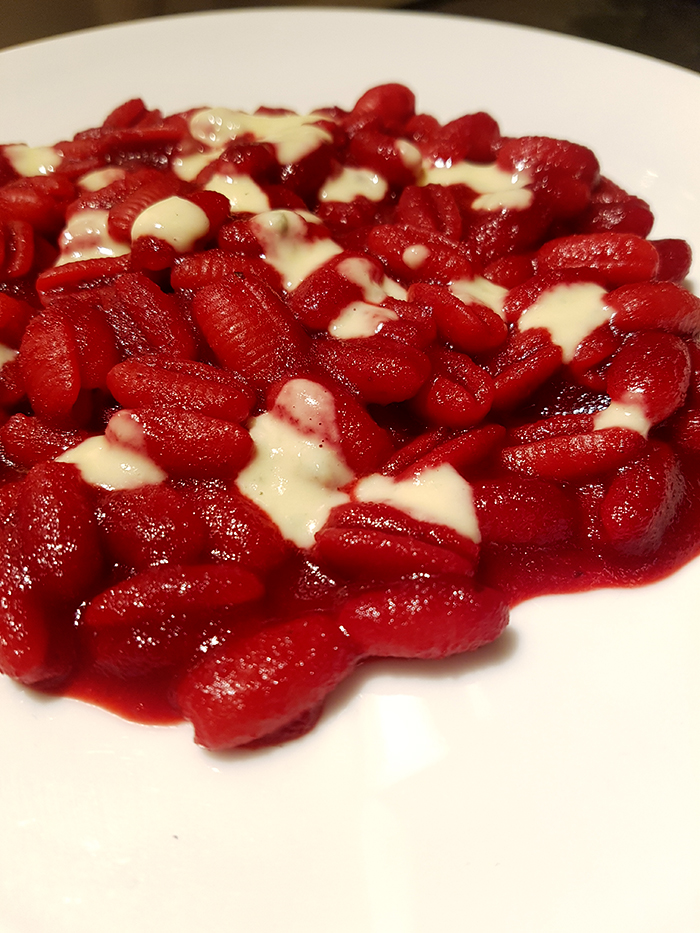 Speaking of seasonality, winter roots are the main player in this period. So I was looking for something different to do with them and I came up with Bartolini risotto.
I did not have risotto rice in my cupboard and I decided to "risottare" (cooking like a risotto") this cavatelli pasta.
Yes, you actually can cook pasta like a risotto. Especially if you have good quality pasta extruded through bronze shapes ("trafilata al bronzo").
How do you do that? Let's see it together!
Ingredients

€5.00 (4 Servings)
Cavatelli pasta

(or every other very short shape pasta)

320 gs

Beetroot

(raw)

200 gs

Vegetable stock

1,2 l

Cashel blue

100 gs

Milk

125 mls
Boil the beetrots in water, then let them cool and blend.
Let melt the Cashel blue in the milk in a small saucepan. Do it at a very low heat or the sauce will get lumpy. (If you have electric stovetop I suggest to use bain-marie method). Stir regularly.
Bring vegetable stock to the boil in a pot and then let simmer.
Put the cavatelli pasta in a heated pan. Add enough stock to cover the pasta and cook at medium heat. Every time the stock evaporates add it again. Stir continuosly.
When the pasta is cooked (it should be al dente and creamy, just like a risotto), add the beetroot sauce.
Put the pasta in the plates and "drip" with the Cashel blue sauce. (Yes, you have to feel a bit like Jackson Pollock during this final step)
And …. Buon Appetito and good locavore shopping!
PS: If the day after your pee is red, don't start to scream and run to the hospital. It is a perfectly normal collateral effect of the beetroot.
*Disclaimer: This is not a sponsored post. I was not paid for these recipe nor I received free products. Skitikkio blog is open to collaboration with brands and enterprises but in that case the nature of the relationship will be specified in the post.
Tags:
beetroot
,
cashel blue
,
cavatelli
,
cheese
,
community supported agriculture
,
csa
,
csa dublin
,
dinner
,
dinner ideas
,
food
,
ireland
,
irish cheese
,
irish food
,
italian food
,
locavore
,
locavorism
,
pasta
,
recipe
,
sustainable food