Irish Buffalo ricotta is an amazing ingredient and it is perfect as a filling for your tart together with artichokes. Did you know that you can use it for a super fast shortcrust pastry as well?
I have been thinking about this tart for quite some time. Savoury tart are called "torte salate" in Italy, and are a bit like the rustic cousins of French quiches.
They are very often filled with ricotta and vegetables and the one with artichokes is absolutely my favourite. A recipe that tastes like fresh mornings and spring lunches al fresco.
Finally, I found these beauties at 4.95 Euro for each bunch of 5 in Fallon & Byrne and of course I could not resist.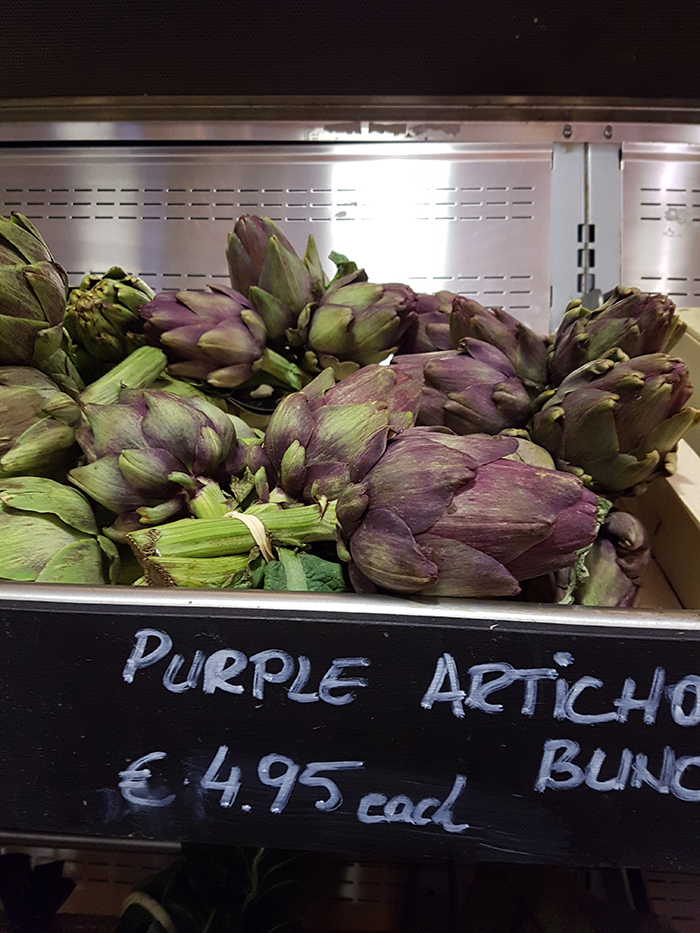 Torte salate are usually made with brisée or puff pastry, but this time I wanted to
try a different dough. I read around that shortcrust can be done with just flour and ricotta.
So, I wanted to experiment with Irish ricotta and the result is a light, fragrant and crumbly pastry, very easy and fast to make from scratch.
This recipe is perfect for a picnic, a starter idea or, in a larger portion, as a main with a fresh salad as a side.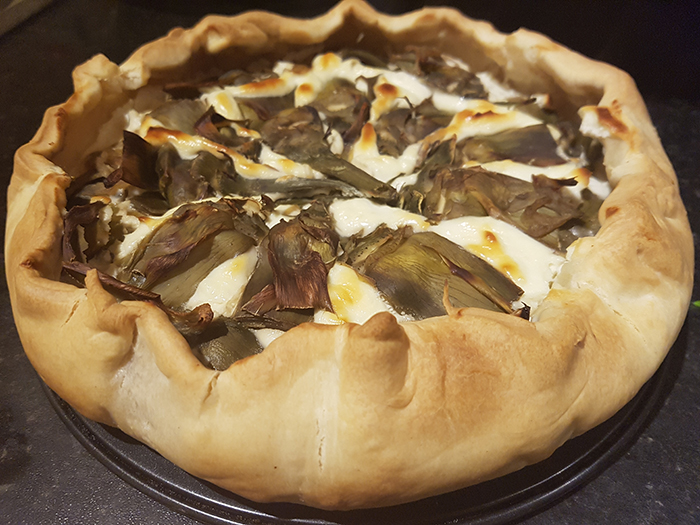 Ingredients

€13.50 (6 Servings)
Irish Buffalo Ricotta

650 gs

00 Flour or Plain

300 gs

Artichokes

5 units

Salt

(one pinch)

units

Garlic

(one clove)

units

Dry white wine

half glass

0.5 units

Extravirgin olive oil

2 tbsps
Mix together the flour, 150 grams of ricotta and the salt in a bowl. You have to obtain a smooth dough. Add cold water if needed.
Wrap in cling film and let rest in the fridge for one hour.
In the meantime, put 500 g of ricotta in a colander on the top of a bowl and let it drain in the fridge. (Cover with cling film).
Clean and cut the artichokes as shown in this video and then slice in quarters (details at minute 1:37).
I know, it is in Italian, but the images… are very clear! (I will do my own video very soon, I promise!).
Let sweat the garlic clove in a pan with the olive oil. When you can smell the garlic flavour, remove the clove and add the artichokes. Stir and let cook for one minute.
Deglaze with the white wine, season with salt and let cook at medium heat until tender. Add hot water from time to time if the liquid dries out.
Roll out the pastry to a thickness of 3-4 mm. Put it into a round tray, cut the excess from the edges and blind bake at 190° for about 15 minutes.
Stir the drained ricotta with a fork in a bowl until creamy. Spread inside the tart and put the artichokes on top.
Bake again at 190° for about 15 minutes.
Let settle and cool down before slicing.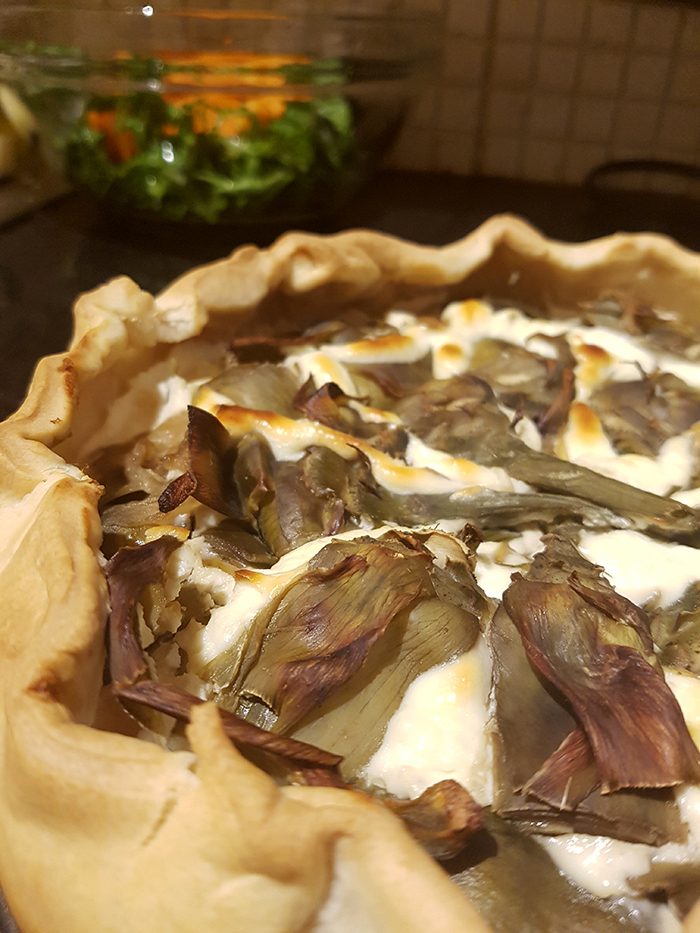 Shopping tip: As you already know, I am a good fan of Irish local producers. For this recipe I used Macroom Buffalo ricotta, locally produced in Cork and available in all Ireland in many supermarkets and farmer markets.
Variations: If you want a reacher texture you can add 1 egg and 50 grams of grated Parmigiano Reggiano to the filling.
Disclaimer: This is not a sponsored post. I do not have any association with the brands and shops mentioned in the post. I was not paid for this recipe nor I received free products. Skitikkio blog is open to collaboration with brands and companies but in that case the nature of the relationship will be specified in the post.
Tags:
artichokes
,
artichokes tart
,
brisee
,
buffalo ricotta
,
cheese
,
how to do shortcrust
,
lunch
,
picnic
,
pie
,
quiche
,
ricotta
,
savoury pie
,
shortcrust pastry
,
tart